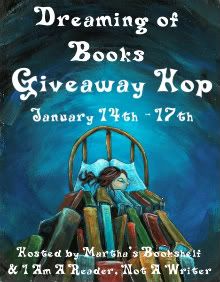 Welcome to the Dreaming of Books Giveaway Hop. This is the first time I've participated and I'm excited!
The giveaway I'm offering is a copy of my new book,
The Upside of Down
.
Here's the back cover copy:
"Hmmm," the doctor muttered.
Natalie wrinkled her forehead, almost afraid to ask, and said, "What does that mean?"
"You do know you're pregnant, right?"
Her breath caught in her throat. "Excuse me?"
"You're pregnant."
Her heartbeat thundered in her ears. "I'm what?"

Natalie Drake certainly has her hands full raising a large family, dealing with her difficult mother, and maintaining a relationship with her rebellious teenager. Just when things seem to be going smoothly, she finds out another unexpected surprise--she's going to have a baby. Faced with so many challenges, Natalie must learn to trust in a plan that isn't what she imagined and discover that every situation has an upside.

Rebecca Talley once again carefully crafts together a touching and heartfelt story that is sure to inspire you. With true-to-life characters and situations,
The Upside of Down
will reignite your faith and remind you of the importance of family.
To be entered, you can do one (or more) of the following and just leave a comment letting me know what you did. Each one counts as one entry into the giveaway contest.
1. Become a follower of my blog.
2. Sign up for my newsletter (I promise I won't spam you) located in the right column of my blog under my photo.
3. "Like" my
author page on Facebook
.
That's it. The hop runs through midnight January 17th. I'll draw a name on January 18th using
http://www.random.org./
Be sure to check back on January 18th.
Have fun!